Growing up in Northwest Indiana, our Summers were hot and humid. Life was a bit slower then, 40 years ago, but we enjoyed the weather, even though it was hot. Some of my fondest memories are gathering with family and friends to share potluck desserts. The food was plentiful and the company was always great!
Our lives now are quite a bit busier with children, their activities and work, but it's never too busy for a fun dessert like these Neapolitan Cake Push Pops.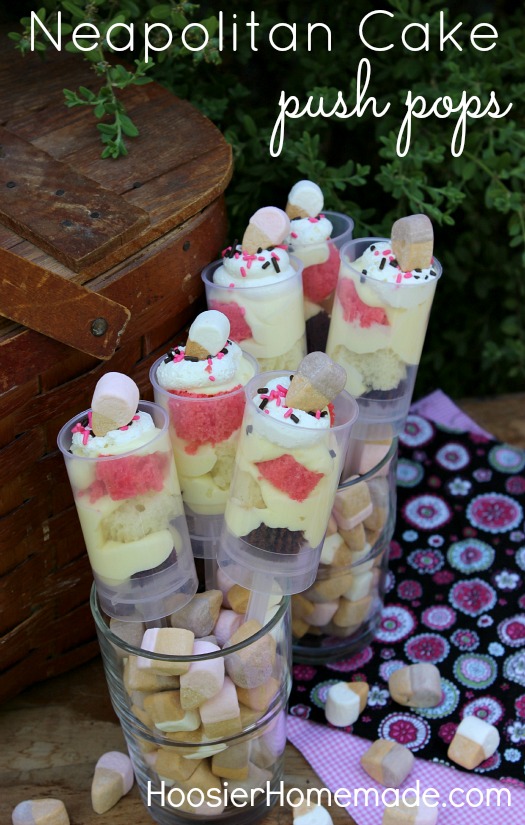 I'm honored to be a part of the 2013 Kraft Tastemaker Community, I am teaming up with Kraft Foods to share with you recipes using everyday ingredients that are sure to please your family!
Neapolitan, a combination of chocolate, vanilla and strawberry is one my favorites. When baked in a cake and paired with JELL-O pudding and COOL WHIP whipped topping these treats are out of this world!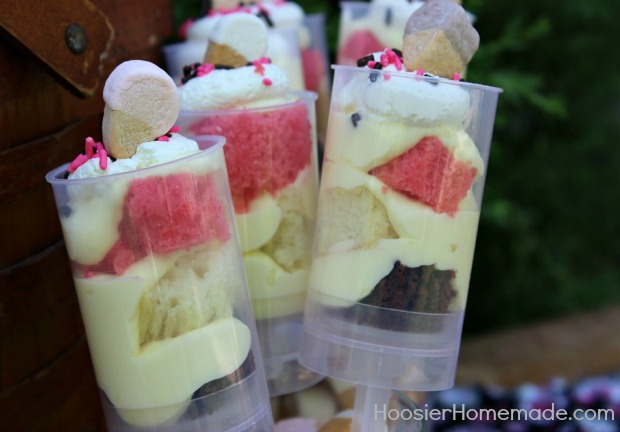 Let's get baking…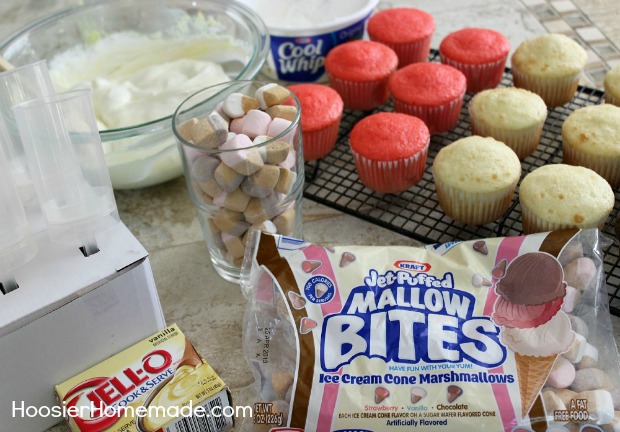 When I spotted the Jet-Puffed Mallow Bites that are shaped like ice cream cones with chocolate, vanilla and strawberry, I thought they would be perfect for a fun cool dessert or they even make great potluck desserts!
I also decided to cut down on time in kitchen, and bake the cupcakes instead of a cake.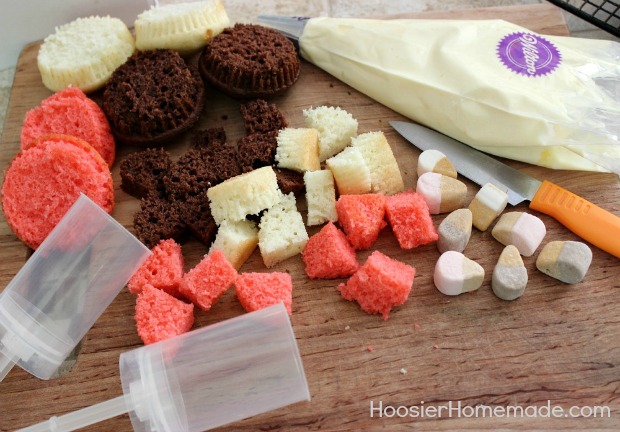 To assemble the Cake Push Pops, first you will need to bake your cupcakes or cake. I used 1 chocolate cake mix and 1 vanilla cake mix. After baking the chocolate cupcakes, mix the vanilla cake mix according to the directions on the box and divide in half, flavor one half of the batter with a small box of Strawberry JELL-O.
If you are making a lot of these treats, you can certainly use a Strawberry Cake Mix, but by using the vanilla divided it also cuts down on time and cost.
While the cupcakes are baking, mix the pudding according to the directions on the box and place in the refrigerator to set. After the cupcakes have cooled and the pudding is set it's time to assemble the push pops. You can find the push pop containers most anywhere Wilton products are sold, but if you can't find them, a small clear jar or glass works fine too.
Now, mix the pudding and the COOL WHIP until smooth and spoon into a bag, you can use either a decorator bag or resealable bag.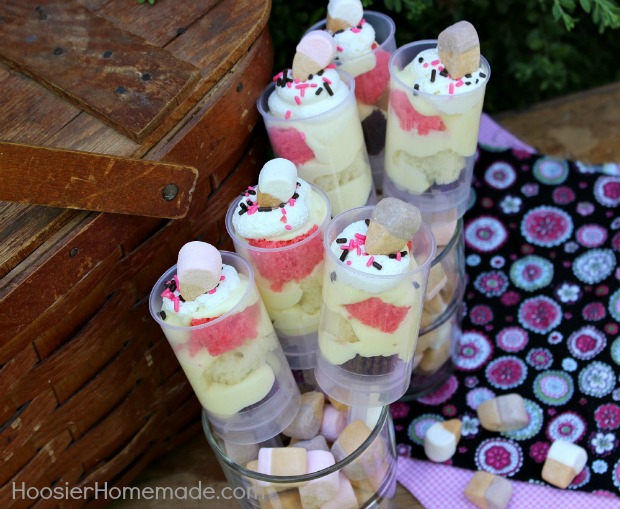 And then the fun part, start layering, first cut the chocolate cupcakes into squares and add a couple pieces to the push pop container, pipe in a small amount of the pudding mixture. Continue layering with the vanilla and then strawberry cake, adding pudding in between the layers.
Top with COOL WHIP, and then add a few chocolate and pink sprinkles.  Add a Jet-Puffed Mallow Bite in the Ice Cream Cone shape.
Serve these Neapolitan Cake Push Pops at your next party, take them to a potluck or enjoy a fun weeknight treat with the kids!
Yields 18-20 push pops
Neapolitan Cake Push Pops
Fun Treat that is super easy to make but looks like you spent hours. Recipe from HoosierHomemade.com
15 minPrep Time
15 minCook Time
Ingredients
1 chocolate cake mix plus ingredients according to package
1 vanilla cake mix plus ingredients according to package
1 small box of JELL-O vanilla pudding
1 small box of Strawberry JELL-O
1 (8 oz) tub of COOL WHIP whipped topping, thawed
Chocolate and Pink Sprinkles, optional
Jet-Puffed Mallow Bites in Ice Cream Cone shapes, optional
Push Pop Containers or clear glass jar
Instructions
Bake chocolate cupcakes according to directions on box and let cool
Mix vanilla cake mix and divide in half
Add Strawberry JELL-O to half of the vanilla batter
Bake vanilla and strawberry cupcakes, let cool
Meanwhile, combine vanilla pudding and milk and place in refrigerator to set
After the cupcakes are completely cool, remove pudding from refrigerator and fold in about 3/4 of the tub of COOL WHIP whipped topping until smooth. Place in resealable bag or decorator bag
To assemble the push pops, cut cupcakes into small squares and layer beginning with chocolate, adding a layer of the pudding mixture and repeating with the vanilla and strawberry cake, adding pudding between each layer.
Top with remaining COOL WHIP whipped topping, sprinkles and Ice Cream Cone shaped marshmallow
Notes
You can also use glass jars if you don't have push pops containers. Assemble the day you are serving. Store in refrigerator until time to serve.
http://hoosierhomemade.com/neapolitan-cake-push-pops/
For more recipes visit KraftRecipes.com