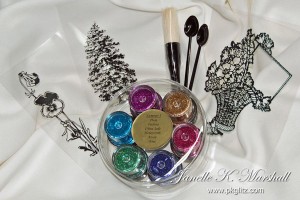 Giveaway Closed
Beautiful projects ahead! Enter to win these fun products from PK Glitz!
Glitter Glitz Color Wheel
3 Art Acetate Samples
Small Goat Hair Brush
2 Application Spoons
(Colors and Designs may vary)
Package Total: $21.00
Don't miss the other giveaways too!
~$25 Alice Gift Card and BlogFrog Premium Membership
~$25 worth of products at the Paper Glitter Etsy Shop
~BlogFrog Premium Membership, T-shirt and Frog
~Tile Pendant from Queenie Designs Etsy Shop
Giveaway Guidelines:
Please leave a seperate comment for each entry!
Just leave a comment
Join my BlogFrog Community, and leave a comment with your BlogFrog Community name
Visit the PK Glitz Store and tell us what product you would like to try.
Follow me on Twitter, leave a comment with your Twitter ID
Tweet about the giveaway including @HoosierHomemade in the tweet and a link to the giveaway post. Leave me a comment.
Subscribe to Hoosier Homemade
The Giveaways will all stay open until Monday, May 10th.at midnight. I will announce the winners on Wednesday. So you will have lots of time to visit everyone and enter!
Hop on over and visit these great blogs for more goodies