Are you ready to Party? I sure hope so! Because we have the BEST party planned for you! It's time to pamper yourself a little

I'm so honored to be teaming up with the BlogFrog, Alice.com and 5 other awesome bloggers to bring you the Mother's Day Extravaganza!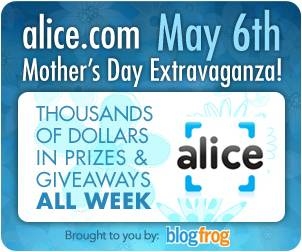 The Party starts on Thursday, at 7 a.m. CST, I will have a giveaway every hour with lots of chances to win, here on my blog as well as in my BlogFrog Community!
What's up for grabs you ask? Well, here is a sneak peak of just a few things I have planned for you…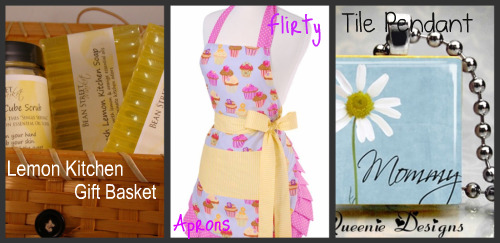 Look fun? There is LOTS more! How about a Day at the Spa or 3 months of Free Housecleaning? Or even Flowers for 3 special Moms in your life!
And of course, don't forget about Alice.com! They are giving away a $250 Shopping Spree and a Starter Kit!
So, how do you enter??? It's easy! Be sure to join my BlogFrog Community, and the other awesome bloggers that will be giving away lots of goodies too!
There will be TONS of great prizes on BlogFrog and the Alice.com BlogFrog Community too!
See you bright and early on Thursday!