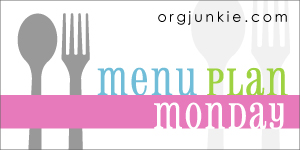 Welcome to another great week of meal planning! I'm always glad come Sunday afternoon, when I get ready to post my meals for the upcoming week and I have the meals planned already because I did my Monthly Meal.
Our meals last week went pretty well, the Bobby Dean Goulash was a big hit and I had enough left to freeze for another meal. Another of our new recipes last week was the Cheeseburger Mac, although it was similiar to the Goulash, it was still very good. My family thought it was very much like Hamburger Helper, but of course, homemade, without all the preservatives that Hamburger Helper has in it. It was a quick, easy meal, and also very frugal.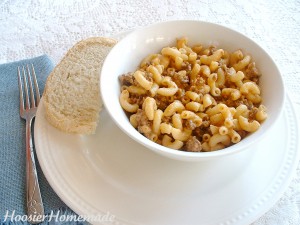 Cheeseburger Mac
Cheeseburger Mac is a budget friendly recipe served up by HoosierHomemade.com.
Ingredients
1 pound Hamburger, cooked & drained (I buy Hamburger in bulk, cook it and freeze it)
2¾ cups Water (I added about ¼ cup more because it seemed dry)
⅓ cup Ketchup
1 teaspoon Onion Powder
¼ teaspoon Garlic Powder
2 cups macaroni, uncooked
8 ounces cheddar cheese, shredded
Instructions
Brown hamburger and drain.
Return to skillet or large saucepan.
Add water, ketchup and spices, mix well.
Bring to boil, stir in macaroni, cover and simmer on medium-low heat 8-10 minutes or until macaroni is tender.
While the macaroni is cooking, shred cheese.
After macaroni is tender, stir in cheese, cook until melted, stirring occasionally.
I served this with Honey Bread, that I made in the bread machine.
Another great meal for under $5!
Tomorrow on Cupcake Tuesday, I'm helping our local Girl Scout troup, for every link I'm donating.  So, if you have a cupcake or muffin recipe, please come and link up, all posts are welcome, old or new, as long as you haven't shared it before on Cupcake Tuesday! Oh, and if you don't have a recipe to share, come visit anyway, I baked some yummy Girl Scout cupcakes! 🙂
Now, onto what we are having this week…
Monday ~  Breakfast for Dinner – Homemade McGriddles, Fried Potatoes & Smoothies
Tuesday ~  Chicken in a Haystack
Wednesday ~  Taco Ring and Spanish Rice
Thursday ~   Mostacolli, Garlic Bread and Salad
Friday ~  Chicken Fajitas, Rice
Saturday ~  Stuffed Crust Pizza
Sunday ~  Taco Soup and Cheesy Chili Dip
What's on your menu plan this week?
This post linked to:
~Tempt My Tummy Tuesday hosted by Blessed with Grace
~Tuesdays at the Table hosted by All the Small Stuff
–$5 Dinner Challenge hosted by $5 Dinners