Well, the holidays are upon us. I can hardly believe it, wasn't it just Fourth of July? I have been having a blast visiting all the great Thanksgiving Day posts around blogsphere. I've put on 5 pounds just from surfing and reading all the great recipes.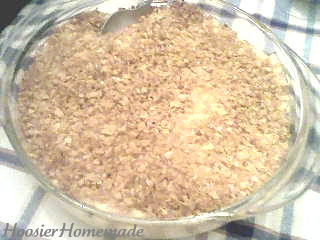 Today, I 'm sharing my Cheesy Potato Casserole recipe with you. I'm not sure why, but I only make this dish on the holidays. My husband absolutely loves it, and I probably should make it more often for him. The rest of the family does not like it as well, so I decided to divide the mixture in half, I cooked half on Sunday for dinner, so that I could have a picture to share with you (I haven't made it since I've been blogging) and I froze the other half to have on Thanksgiving.
Ingredients:
32 oz. pkg of Hash Browns (I use the little square kind)
1/2 c. Cheddar Cheese, grated
1 can Cream of Chicken Soup
1 (16 oz) Container of Sour Cream
1/4 c. Butter, melted
5 c. Corn Flakes, crushed  (I usually use a little less)
Directions:
Mix together all ingredients except Butter and Corn Flakes. Place Hash Brown mixture into 9 x 13 baking pan or casserole dish. Mix crushed Corn Flakes and butter, sprinkle on top of Hash Browns. Bake, uncovered at 325 degrees for 90 minutes, or until golden brown.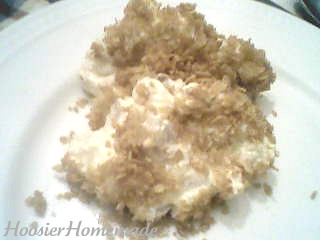 To freeze:  I put half the mixture into a plastic whipped topping container and wrapped in foil, and labeled.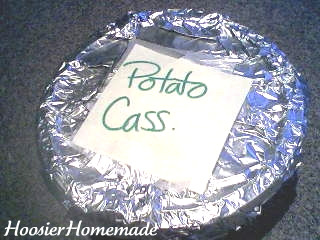 Our Thanksgiving Menu ~ Nothing Fancy just Traditional
Turkey  (will get a extra big one for lots of leftovers)
Mashed Potatoes and Gravy
Cheesy Potato Casserole  (recipe above)
Sweet Potatoes with Marshmallows
Stuffing
Corn (in the freezer from summer's harvest)
Green Bean Casserole
Salad (probably Watergate Salad)
Cranberries
Rolls (gonna try a recipe my Mom made for years)
And our other meals this week
Monday ~  Beef Stew
Tuesday ~  Hamburgers, Oven Fries, Applesauce
Wednesday ~  Leftover Chicken N' Noodles
Thursday ~  Happy Thanksgiving!
Friday ~  Quesadillas
Saturday ~  Turkey Divan
Sunday ~  Taco Soup
If you need some Place Setting inspiration for your Thanksgiving Table, check out my post. And be sure to stop back tomorrow for some Centerpieces and really fun Thanksgiving Cupcakes for Cupcake Tuesday, you won't want to miss these!

For more great menus, please visit: