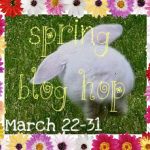 Well, here we are on Day 3 already of our Spring Blog Hop! Did you see all the amazing treats that everyone shared yesterday? If you haven't, hop on over…get it, hop on over

Our hostess for today's Hop Party is Shelley and the girls at How Does She? If you haven't seen their blog, you are in for a treat. Whether you need to know how to make your own bubbles or throw a special Birthday party, they have it all, and then some!
Today I'm sharing these easy, melt in your mouth, Cream Puffs.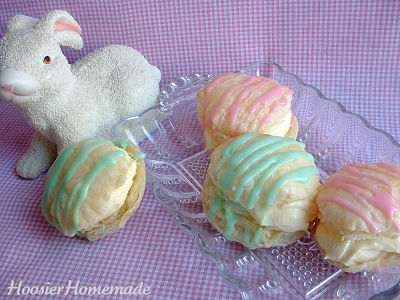 Now, I'll have to admit, I'm usually looking for ways to save money by baking from scratch, and really, about 90% of what I bake, is from scratch, but when I saw these Luscious Cream Puffs in the Kraft Food and Family, Spring 2006 edition, I knew I just had to bake and share them with you.
Luscious Cream Puffs
Luscious Cream Puffs from HoosierHomemade.com.
Ingredients
½ pkg (17.3 oz) frozen puff pastry (1 sheet, thawed)
1 cup milk
1 pkg (4 serving size) Vanilla Instant Pudding (I used French Vanilla)
½ cup Whipped Topping, thawed
Instructions
Preheat oven to 400 degrees.
After Puff Pastry is thawed, carefully unfold onto lightly floured surface, roll pastry out to 10 inch square.
Using a 3 inch round cookie cutter, cut out 9-12 circles (I squeezed mine very close together and got 11).
Place on cookie sheet and bake for about 8-10 minutes, until golden brown.
Meanwhile, pour milk into large bowl, add dry pudding mix and whisk until well blended, about 2 minutes.
Gently fold Whipped Topping in. Cover and refrigerate for 15 minutes.
Cut Cream Puffs horizontally in half.
Spoon a heaping teaspoon of pudding mixture onto bottom halves of cream puffs, cover with tops.
To drizzle, you may either use melted chocolate or I mixed about ¼ cup of Powdered Sugar and a very small amount of milk. I added 1 drop of food color to make them a pretty Spring color.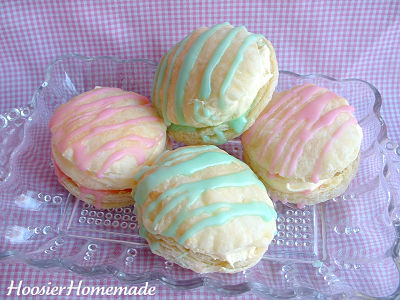 Note: It has been a long time since I used Puff Pastry and I had forgotten that you can't re-roll it and re-cut. They just don't raise for some reason. So, I would suggest, to get the most out of your pastry, cut the circles as close together as possible and bake the scraps to have extra snacks.
This post linked to: