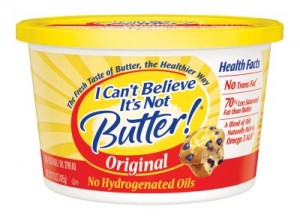 We have had several Giveaways in the last couple weeks, and I wanted to update you on them and give another shout out to the amazing sponsors!
A very special Thank you to I Can't Believe It's Not Butter for everything! The fridge make-over goodies and The Holiday Bake-off.
Sadly, I did not win the bake-off, but I had a blast! And I REALLY, REALLY appreciate my readers, friends and family for commenting!!
I Can't Believe It's Not Butter coupon winners…
Brenda says Buying lots of containers in all sizes from Ikea has helped us keep it more organized.
Anita A. says I put items that keep longer on the bottom shelf of the fridge. That way i'm more likely to see the items that need to be used quicker sitting on the upper shelves.
Debbie says My husband is really good about eating leftovers. I just try to keep the older containers near the front of the fridge so those will be grabbed first.
Cindy says When I make my grocery list, I go through the fridge to see what needs to be thrown out and what we'll need. I also like to put doubled up sheets of paper towel, in my crisper. When they get dirty or soggy, I just toss and reline.
Katie says Organize by food item.
Lunchbag winner…
Sylvia says I like to deep tupperware labled with date and item inside and all in one section of fridge with the oldest towards the front. Although a little more work, there is no guess work and food is not wasted.
Thank you to Make 5 Dinners in One Hour for the Monthly Menu Plan Giveaway!
The winners are…
Kim says Going to have to go with the enchilada recipe.
Melissa D. H. says Oooh, I want to try the Tuna cakes. They look yummy, cheap and easy.
We LOVE our Susan Branch Calendar!! Thanks to Susan for the giveaway!
The winner is…
Lynda says I have been collecting Susan's books since they first came out ~ she is amazing! Vineyard Seasons is one of my favorites.
And lastly, our Silhouette Supply Bundle! Thanks so much, I'm loving the supplies and my son loves his tatoos!
The winner is…
Alycia E says I subscribe to your blog via email. Thanks for the chance!
ALL winners have been notified and responded! THANKS to all for entering!
Now for the Twitter Party!! Join us Monday, November 15th at 7-9 p.m. CST for the I Can't Believe It's Not Butter! Better for You Holiday Entertaining Taste & Tweet!
Be sure to follow @ICBINotButter and the hashtag #Better4UHoliday to learn how to "Reach Right" by choosing better for you foods throughout the holiday season!
AND, of course there are prizes too! Your first tweet including the hashtag will automatically be entered in our sweepstakes to win one of two grand prizes each valued at $200!
The prize features:
I Can't Believe It's Not Butter! VIP kit with a coupon for a FREE tub
Cuisinart Food Processor
Sur La Table porcelain cake stands (set of 3)
Leave your Twitter handle in the comments, so that I can follow you!
Disclaimer: I received a package from I Can't Believe It's Not Butter for the Twitter Party.