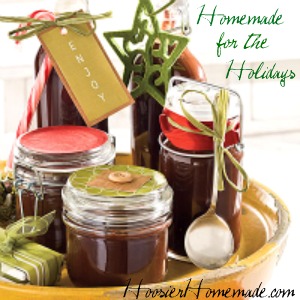 Welcome to Homemade for the Holidays! I'm having such a good time creating Homemade gifts to share with you, I hope you are enjoying them!
If you are a subscriber, don't forget to enter the giveaway for the Roundabouts Christmas Cupcake Wrappers. The link was in last weeks Cupcake Chronicles Newsletter. I will be choosing a winner later tonight.
This Christmas Cheese Ball is an absolute must in our home during the Holidays. Last year, my middle son made one for his girlfriend's family, they loved it and him for sharing!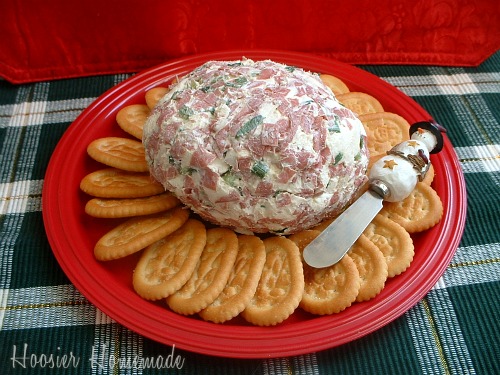 Many years ago, before I was blogging and sharing recipes I followed several blogs, MomAdvice, whom I still follow, and Cherry Hill Cottage, whom I lost track of and recently found again, just to name a couple.
Tina shares her amazing decorating ideas and recipes, her life with her dogs and her beautiful garden. This Cheese Ball recipe comes from Tina.
Print
Christmas Cheese Ball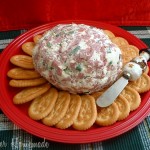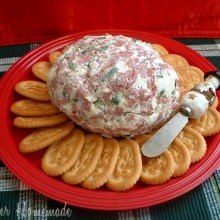 Perfect for a holiday gift or to serve as an appetizer, this Christmas Cheese Ball from HoosierHomemade.com is a must have on your holiday baking list.
Ingredients
2 packages (8 oz. each) Cream Cheese, softened
2 packages of thinly sliced meat, pastrami or beef works best (I buy them at Aldi's or Walmart, for less than .60 cents)
2 teaspoons Worcestershire Sauce
2 teaspoons Accent Salt (or regular salt) Accent has MSG in it, so if you don't want to use that, regular salt is okay, just use less regular salt)
3-4 green onions, chopped finely
Instructions
Mix all ingredients together and form into ball.
You can roll in chopped nuts if you want.
Serve with crackers.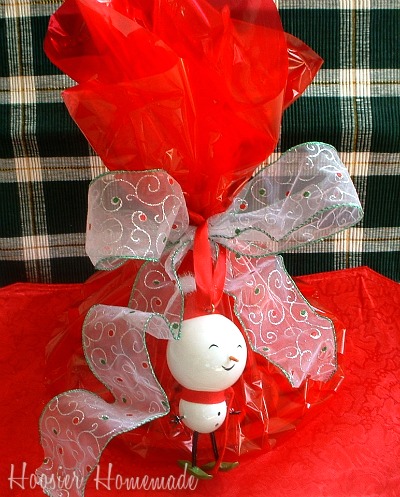 As I mentioned before, this Cheese Ball makes a great gift. Wrap with plastic wrap (I used red cellophane) tie with a ribbon. Add a fun Christmas ornament for their tree and you have a easy, frugal gift.
I also wanted to let my readers know that I will be hosting 3 giveaways tomorrow, so be sure to check in! You can find them all on the Giveaway Page!
Do you have a must have treat for the Holidays?
Homemade for the Holidays Series…