Once again I did good at Aldi's. I spent $40.62 for a total of 29 items, including Flour, Sugar, Brown Sugar, Powdered Sugar and Potatoes. Which typically cost a little more.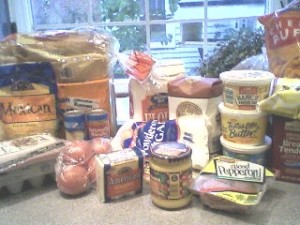 Highlights:
12 pack Ramen Noodles  $1.79
Buttermilk Biscuits  $.38/tube
Mexican Shredded Cheese  $1.99
Sour Cream  $.89
Hot Dog & Hamburger Buns  $.79
I also made a trip to Walmart, spending $28.21 for a total of $68.83 for the week. This should cover everything we need for 3 meals this week. You can find my meal plan here.
I was only able to grab cereal at CVS, but got a great deal.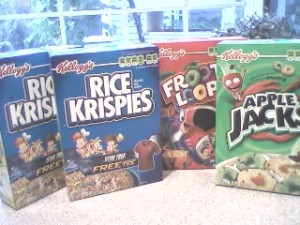 Sale price $1.88 – coupon $1.00 = .88 per box
Total OOP = $3.58
The cashier asked how to get good deals like this, so I gave her a business card and told her to head to my site and I have lots of link for great deals, such as…
~Super Savings Saturday hosted by Money Saving Mom
~Weekly CVS Deals hosted by Deal Seeking Mom
~CVS $5 Challenge hosted by Kingdom First Mom
~Weekly Shopping Trip hosted by The Grocery Cart Challenge
~Mission Possible hosted by A Virtuous Woman