Spring is just around the corner, scouts honor. And with it comes Spring cleaning in our house. I like few things better than opening up a few windows and letting the fresh air in and all the stale air and stink out. Reminds me that everything is about to begin anew.
What could ruin that? Your family kitty's litter box that's what! It certainly has the ability to harbor some mighty nasty odors, I know ours' does. Fresh Step® Extreme Odor Control Scoopable Litter to the rescue.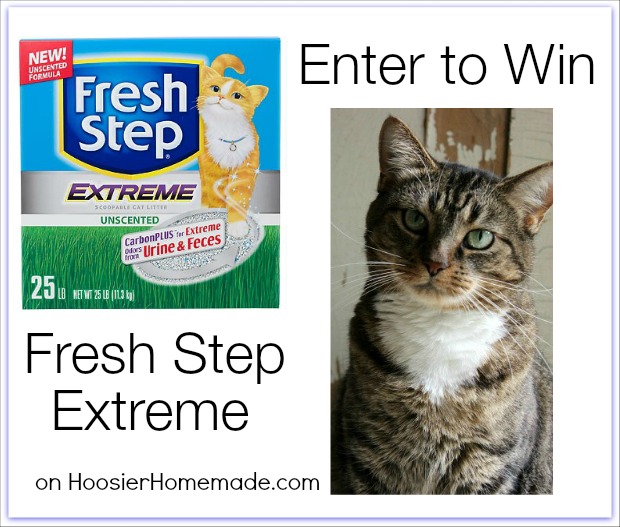 Cleaning the cat's litter box ranks up there on the yucky list so I know in our house that it's the one item that I stay away from. Doug grew up on a farm so he's had his fair share of dealing with     stuff like this so he's our go to guy in the house. Still there are times when this chore gets neglected for an extra day or two and it gets smelling a little ripe, you know what I mean.
Fresh Step®Extreme Odor Control Scoopable Litter is your partner in odor elimination. Extreme Odor Control Scoopable Litter is specially formulated to handle the stinkiest litter boxes, their patented CarbonPLUS™ technology eliminates extreme odors around the clock and deodorizes with a fresh scent.
Destroys Urine and feces odors on contact
Remove 35%more urine and feces odors *verses untreated clay
CarbonPLUS™ provides extreme odor neutralization
Antimicrobial agents help stop the growth of odor-causing bacteria
Clumping clay makes it easy to scoop
Cat lovers will really enjoy the Fresh Step facebook page and follow them on twitter.
Tell us why you want to try Fresh Step Extreme Odor Control Kitty Litter!
Quick Giveaway
5 lucky Hoosier Homemade readers will win 

a coupon for 14 pound scoopable Fresh Step Cat Litter

 .
Leave a comment with your cat's most amusing habit in the comment area below to be entered to win one.
**This is a sponsored conversation written by me on behalf of Fresh Step via Burst Media.  The opinions and text are all mine.**