I love decorating, next to baking, it's my favorite past time. I especially enjoy decorating for the holidays. I also re-decorate my house with each season. In the Spring, I shared with you our Mantle and decorating with nature. Recently, I changed the mantle for summer.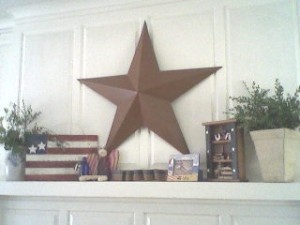 I like how the fresh ivy and boxwood looks, so I cut some more and used it again.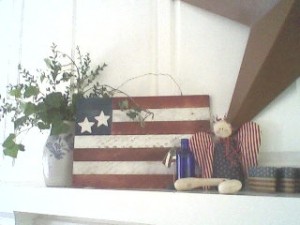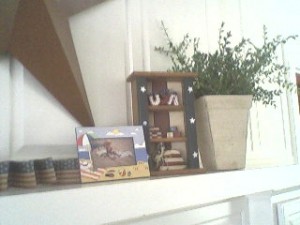 One of the easiest ways to decorate is to create a theme. For my Summer decorating, I like to use fun things that we enjoy doing during the Summer. Like, for instance, a picnic…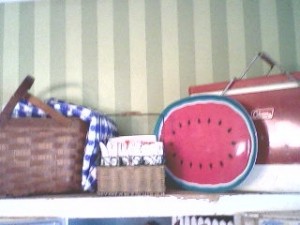 I recently received an old Coleman cooler from my good friend, Jane. I started with an antique picnic basket and the cooler.
If you have a large piece of furniture, like my Hoosier Cabinet, you need to start with a large item or two. Then fill in with the smaller items. I added a silverware basket, a tablecloth and a watermelon tray.
I also decorated my little tree for summer. I decorate the tree for each season. For summer, I added a string of lights that have fruit on it, some paper flags and a few handfuls of red, white and blue glitter.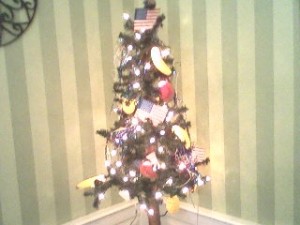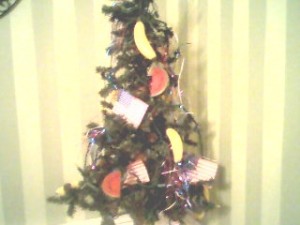 I also decorated with some favorites from when my boys were little, sand pail, bubbles and bug catchers. I think it adds a bit of whimsy to the room. I even added a plastic spider and worm to the catcher.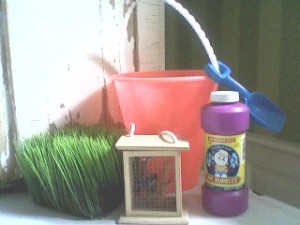 I also have these old metal jacks and balls.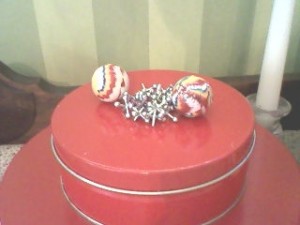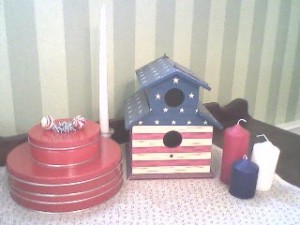 I think most of all, just surround yourself by things you love and think outside the box.
For more great blog carnivals, please visit:
~Things I Love Thursday hosted by The Diaper Diaries
~Works For Me Wednesday hosted by We Are THAT Family