Well hello there, welcome to Cupcake Tuesday! I'm so excited to have you here! Looking for a cupcake recipe? Our Cupcake Heaven page has over 200 cupcake recipes and decorating ideas!
Hey Happy October! Can it really be October already? I'm so excited for this month! Halloween has always been a fun holiday for us to share our creations, whether we are baking up a fun treat, decorating, creating a spooky craft and of course whipping up Halloween Cupcakes!
We begin our celebration today with these super Easy Monster Eye Cupcakes. We all love easy right? Starting with your favorite chocolate cupcakes, lime colored frosting and candy eyes – even the kiddos can help with these!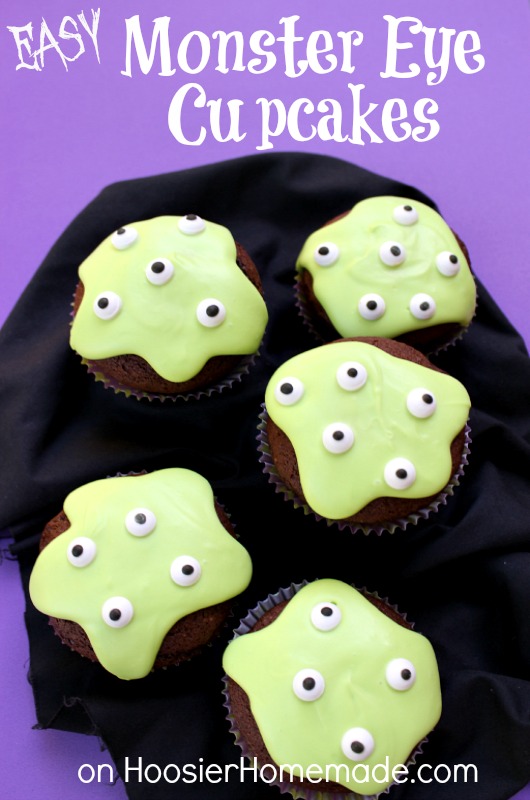 These Halloween Cupcakes are easy enough to create for a classroom party, and would also be perfect for your Halloween Party, whether you are hosting for kids or adults.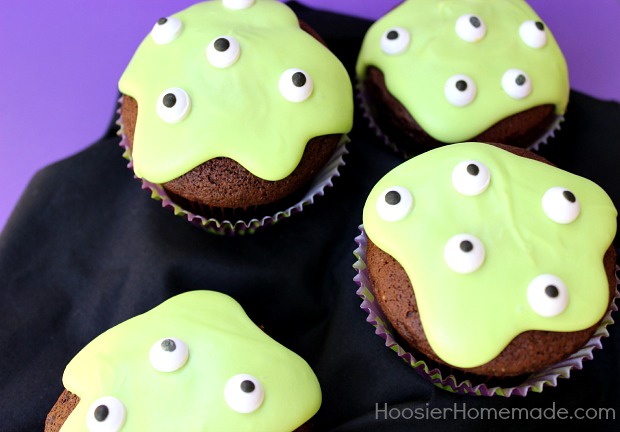 Let chat about the cupcakes first. Start with your favorite chocolate cake mix, I used Duncan Hines Devil's Food. Then add ingredients to make it taste more like homemade – buttermilk, eggs and oil. I often also add a small box of instant pudding to the cake mix.
After the cupcakes are baked and cooled, now it's time for the frosting. You can use store bought or make your own, any kind will work.
For the coloring, I used Betty Crocker Neon Lime Coloring, you can find it in the baking aisle or online.
Color the frosting, and place in a microwave safe bowl. Heat a little a time, about 20 seconds. You want the frosting spoonable, not super thin, but thin enough that it will run a little.
Spoon frosting onto the middle of the cupcake, turn cupcake to let frosting drip a little or use the back of the spoon to spread.
Immediately add the candy eyes. The cupcakes set a few minutes and the frosting will firm back up.