Are in need of a new vacuum? The Dyson V6 Slim might just be what you are looking for.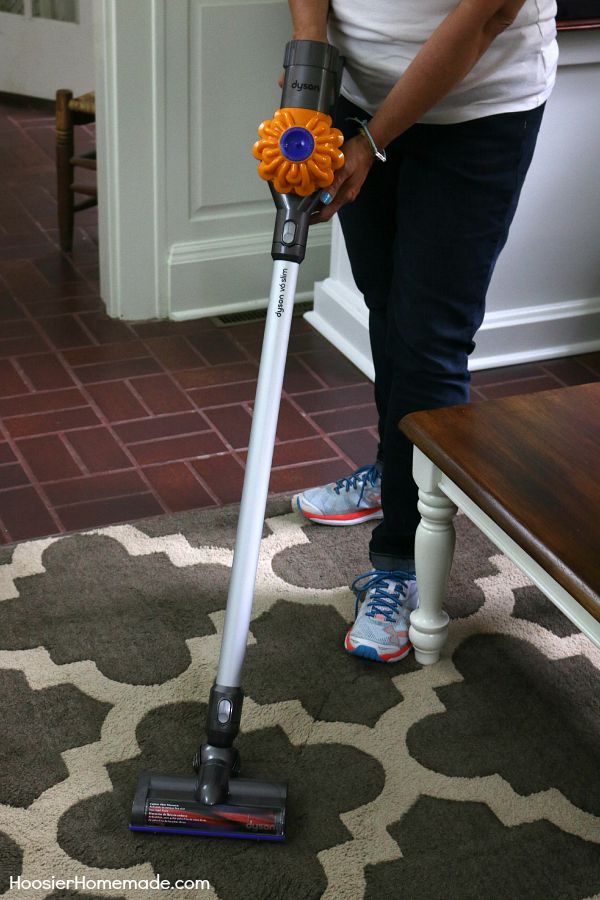 One of the perks of having a successful blog is being asked to try out new products to share with our readers.  And we just received a new Dyson V6 Slim vacuum…yeah!
A few years ago we reviewed our first Dyson Slim and were really excited to give it a try. I had heard all the hype on how great their products worked and I was not disappointed. It makes keeping our bustling household cleaning easy and somehow also fun. The boys don't seem to gripe as much about running the vacuum when they don't have to lug a heavy machine up and down the stairs. And I haven't found a mess it can't handle.
We've learned a few ways to make this machine work in just about any circumstance. Here's a collection of our best suggestions.
Tips and Tricks to get the most out of your Dyson V6 Slim
Mount the docking station out of sight – The Dyson V6 Slim has it's own convenient docking station that stores and charges the machine and holds your additional attachments. While the Dyson is an impressive and somewhat pretty machine it's not going to be the centerpiece of your room decor. We mounted our vacuum in our laundry room where it's accessible but out of the way.
Clean the dust and debris bin regularly – Cleaning and disposing of what you vacuum up off your floors and carpeting is as easy as pushing a button to release the bottom of the dust bin. So take advantage of this to maintain the suction power by not blocking airflow.
Tackle light areas first – This trick gets the kids involved in the house cleaning. They love getting the job over as fast as they can so what better way to trick them into getting things done.
Max power mode – You will only need to use this feature sparingly but you'll be glad you have the choice when it's needed.
Work on a daily cleaning schedule – The Dyson V6 Slim has up to 20 minutes of run time when you don't use the Max Power Mode so we have divided the vacuuming into a daily schedule. If you do run out of power it only takes 3.5 hours to fully charge the machine.
You can pick up the latest Dyson V6 Slim Walmart exclusive model  during Walmart's Dyson Labor Day Promotion on rollback from $289 to $259 running August 23rd through September 12th.