For more great ideas to save you money, please visit Life as Mom for Frugal Fridays.
Of the many homemaking things I enjoy doing, second to baking, is decorating. And I especially enjoy decorating without spending any money.
I have this little tree in my Dining Room that I change with the seasons and holidays.
Here is the Winter Tree…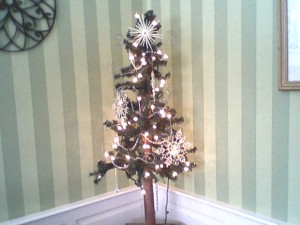 I decorate it with white lights, snow flakes and icicles.
This is the Valentine's Day Tree…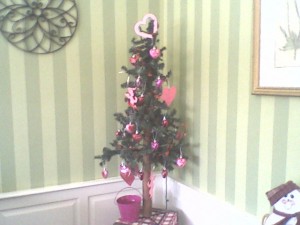 I leave the white lights on, and add some glass heart ornaments that I bought years ago and hearts that are cut out of construction paper.
And right now I have my Easter tree up…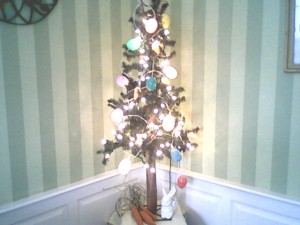 I have Easter egg and carrot lights, and plastic eggs hung on it.
After Easter I will change it to have silk Spring flowers on it and then red,white and blue decorations for summer.  I will show you those pictures when the time comes.
As I mentioned last week in, Decorating on a Budget,  use your imagination and think of items you all ready have in the house.