I'm very honored to have been selected to be a contributor for The Daily Brainstorm Blog.
The Daily Brainstorm is like a magazine wrapped into a blog. The best of both worlds! They want to rock your life, here is what they have to say about their new blog "The Daily Brainstorm is a place where compelling ideas mingle, where the best and the brightest gather, and where readers are inspired in a multitude of ways to live bigger, bolder and happier lives. It's all about giving you what you want and what you love to read, with practical strategies, inspiration, a bit of controversy, and mind-rocking information."
I'm so excited to be surrounded by great bloggers like, Darren Rowse from ProBlogger, Gretchen Rubin from The Happiness Project, and Leo Babauta from Zen Habits to name a few. There are some awesome food blogs involved, which of course, is where I will be contributing. This Triple Berry Sangria from Veggie Belly looks so refreshing, and these Juicy Burgers from Stone Soup (love that name) sound amazing!
And, even better…some of my blogging friends are contributors as well! Cindy from Skip To My Lou and Kim from Today's Creative Blog, loads of fun, huh?
So, if you are looking for some great inspiration, some new recipes or even some blogging help, head on over to The Daily Brainstorm and see for yourself!
I also wanted to highlight a few upcoming events in August! Things sure are hopping here at Hoosier Homemade!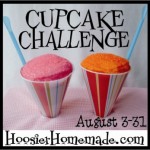 The Cupcake Challenge starts August 3rd. Grab the details!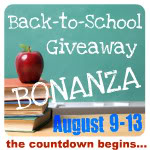 Just like the Dads Rock Event we hosted in June, the Back to School Giveaway Bonanza will be full of AWESOME prizes! Does a new computer sound good? How about some shoes or school supplies for the kiddos?
Be sure to mark your calendars! August 3rd – 9th! It promises to be a week long event, you won't want to miss!!
In case you missed Monday's announcement, I wanted to let you know about the Holiday Bake, Craft & Sew Along! Follow along on Twitter #handmadeholiday and get a jump start on the holidays!
More Holiday News…
Starting Friday, I will be hosting a Holiday Linky Party over at It's A Blog Party, so get ready to link up your recipes, gifting ideas, decorating, shopping, etc.
Also, Lorrie from Tip Junkie is currently hosting a Christmas in July with lots of great ideas. Check it out, you are sure to find something great!
In other news…
I have some great deals you may be interested in…


 These super aprons are on sale, and would make a GREAT holiday gift! Grab yours at  10% off purchase of $30 or more at Flirty Aprons, code CJ10
!
Update: Sorry, it appears that the Quiznos coupon has met it's maximum. Hopefully they will open it up again.
You can print a coupon for any small sub, chips and regular fountain drink for $2.99 at Quiznos! We LOVE their food and that's a whole lotta food for 3 bucks!
Disclaimer: This is an affiliate link. I'd love for you to check it out and see if it's something that would work for you.