Welcome to Cupcake Tuesday!   If you are new here, grab a cup of tea and enjoy a cupcake!

Today, I have a Red Velvet Cupcake with Meringue Topping for you.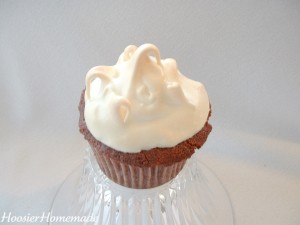 I started with this recipe I found over at Wilton. If you haven't seen their website yet, be sure to head on over. They have some amazing ideas.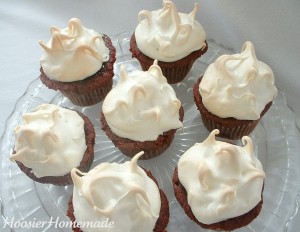 Red Velvet Cupcakes
Red Velvet Cupcakes with Meringue Topping from HoosierHomemade.com
Ingredients
2½ cups Flour
2 tablespoons Cocoa Powder
1 teaspoon Salt
1½ teaspoons Baking Powder
½ cup Butter or Margarine, softened
1½ cups Sugar
2 Eggs
½ teaspooons Wilton No-Taste Icing Color (no-taste is important to use, because red coloring can be very bitter)
1 teaspoon Vanilla
1 cup Buttermilk
2 tablespoons Water
1½ teaspoons White Vinegar
1 teaspoon Baking Soda
Instructions
Combine flour, cocoa, baking powder and salt, set aside.
In a large bowl, cream butter and sugar until light and fluffy.
Add eggs, icing color and vanilla, mix well.
Add dry ingredients, alternating with buttermilk, add water and mix well.
In a small bowl, combine vinegar and baking soda, add to cake batter.
Fill paper lined muffin tins.
Bake at 350 degrees for about 15 minutes, checking with a toothpick to make sure they are done.
Cool completely.
Now it's time to frost them. I chose meringue, I love how it reminds me of snow this time of year. You could easily use a variety of frostings, Buttercream, Cream Cheese or the Meringue like I used. You can learn how to make meringue on my
Chocolate Meringue Pie Post
.
After making the meringue, I spooned it onto the cupcakes and used the back of the spoon to form the peaks.
Then put them back in the oven at 400 degrees for about 5-8 minutes. It's important to watch them closely, they will burn very quickly.
Don't they look almost too pretty to eat?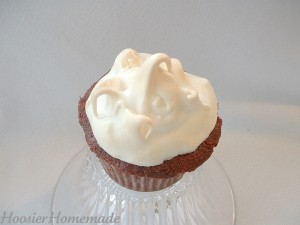 Almost…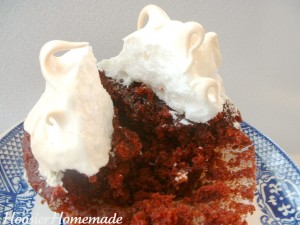 Now it's your turn! Please share your cupcake or muffin recipe! For the guidelines, you can visit Cupcake Tuesday. Be sure to link back to this post and visit some (or all) of the other participants.