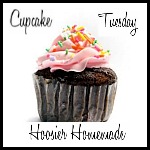 Welcome to Cupcake Tuesday! I'm so excited you are here! Last week, we had a giveaway for a Cupcake Bath Bomb Kit, a BIG Thank You to all who entered and to my new subscribers, Welcome! I'm glad you found me!
And the winner is…
Rachel, from Hounds in the Kitchen, her comment was "I love the soap making kits at Brambleberry. I have made other bath products but not soap yet. Congrats Rachel! Have fun!
Today I'm sharing another fun Snowman Cupcake, not only because we have nearly 24 inches of snow on the ground right now, it's January, and I happen to love Snowmen, but also because  this Mr. Snowman Cupcake is just about the cutest Snowman ever (I think even beating the Snowman Cupcakes from last week)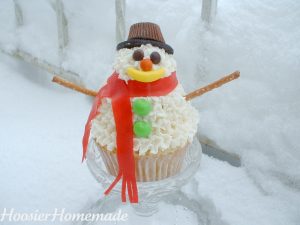 And yes, after reading this great post on food photography, I took Mr. Snowman Cupcake outside to take his picture, in the snow on our front porch. 🙂
I started with white cake batter and used 3 different sizes of cupcakes to make him, jumbo, regular and mini, using a little frosting to attach each cupcake.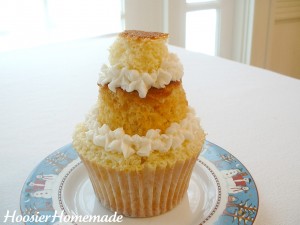 And I'll have to give credit to Doug, my husband, for this idea.
I used White Buttercream Frosting in my decorator bag with a star tip, you could use any tip, I chose this one because it looks like a snowflake.
After covering all 3 cupcakes with frosting, I dressed him.
I used a red fruit roll-up for his scarf (trimmed down to make it thinner), an Oreo cookie with a Peanut Butter Cup for his hat, mini M&M's for his eyes and nose, pretzel sticks for his arms and Runts Candy for his mouth and buttons.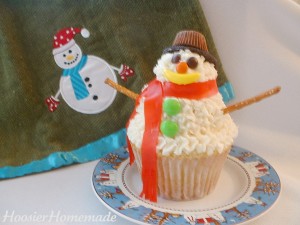 Are you going to the Blissdom Conference? If so, leave me a comment and let me know what cupcake you would like to try, I plan on bringing some 🙂
Please visit The Inspired Room for more Winter inspiration.
Now it's your turn! Please share your cupcake or muffin recipe! For the guidelines, you can visit Cupcake Tuesday. Be sure to link back to this post and visit some (or all) of the other participants.