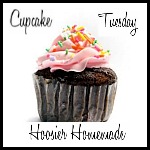 Welcome to Cupcake Tuesday!   If you are new here, grab a cup of tea or a glass of milk and enjoy a cupcake!
This is a very special week here at Hoosier Homemade. I'm celebrating my 1 year Blogging Anniversary! Enter to win a photo album and some yummy orange sweet rolls! And stop back every day this week for more great giveaways!
Today, I'm very excited to be offering you one of my favorite Cupcake Cookbooks, Hello Cupcake by Karen Tack and Alan Richardson.
Even though Valentine's Day is over, I wanted to share with you these cute little cupcakes I made, after being inspired by one of the ideas in the Hello Cupcake Cookbook.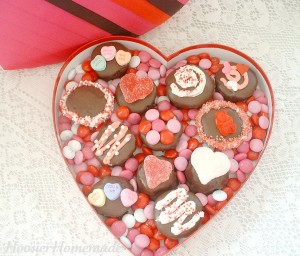 I started my baking mini chocolate cupcakes, using the Farm Chicks recipe. It's a very moist cake, and just the right amount of chocolate flavor. After they cooled, I melted chocolate Almond Bark and dipped the cupcakes. Then placed them in the frig to set, after they set up, I used Buttercream frosting to decorate.
These made a fun Valentine treat for our Valentine Dinner, but you could very easily change the color of the decoration to match your birthday party theme or even for a holiday treat.
The Hello Cupcake Cookbook is full of fun ideas. I love these penguins, keep your eyes open for these to be featured on Cupcake Tuesday soon, my son's girlfriend has already asked for them.
And here is the inspiration for the mini chocolate cupcakes I made.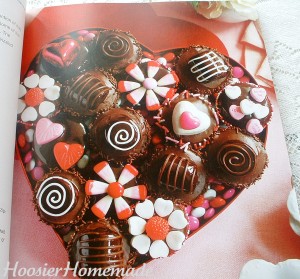 The giveaway is now closed
Giveaway Guidelines:
Please leave a seperate comment for each entry.
Link up your Cupcake or Muffin recipe, receive 5 entries, you have the whole week to link up.
Head on over to the Cupcake Heaven page and tell me your favorite.
Follow me on Twitter, and leave me a comment with your Twitter ID, if you already follow me, just leave me a comment.
Tweet about the giveaway including @HoosierHomemade in the tweet and a link to the giveaway post. Leave me a comment.
Become a subscriber, or if you are already a subscriber (thanks!) leave me a comment.
The Giveaway will be open until Tuesday, March 2nd, 8 p.m. CST, the winner will be notified and have 48 hrs to claim their prize.
Now it's your turn! Please share your cupcake or muffin recipe! For the guidelines, you can visit Cupcake Tuesday. Be sure to link back to this post and visit some (or all) of the other participants.