What do you get when you combine a German Chocolate Cake, Caramels, Chocolate Chips and Nuts? Pure deliciousness, that will have the family begging for you to bake them again and again!
Sandwiched between soft layers of chocolate cake is more chocolate, nuts and ooey gooey caramel in these Chocolate Caramel Nut Bars. After a little coaxing, the boys all gave them two thumbs up! And then quickly returned for another try.
Seems like this is a week for amazing giveaways, and I have one more for you today, but first let's get baking!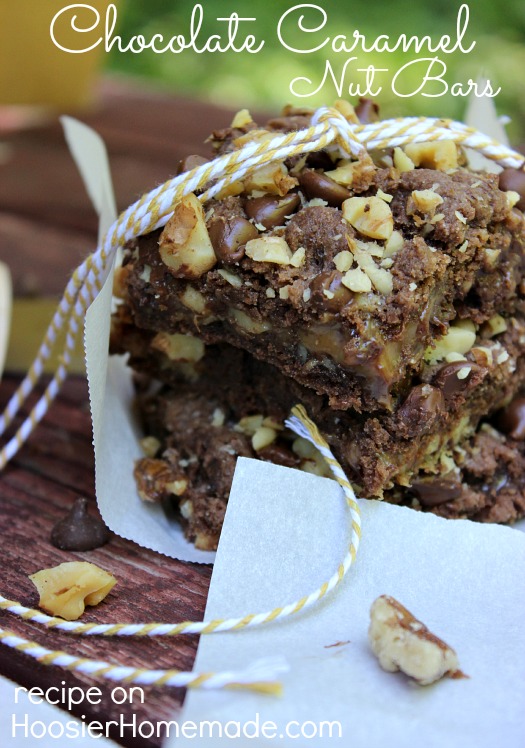 Aside from a quick no bake dessert, bar cookies are my favorite treats to serve. They go together in a snap, and you have usually 25 or 30 servings per recipe. Add these to the other Desserts for Picnics, Potlucks and Memorial Day celebration, that I shared and you have quite the long list of treats to choose from.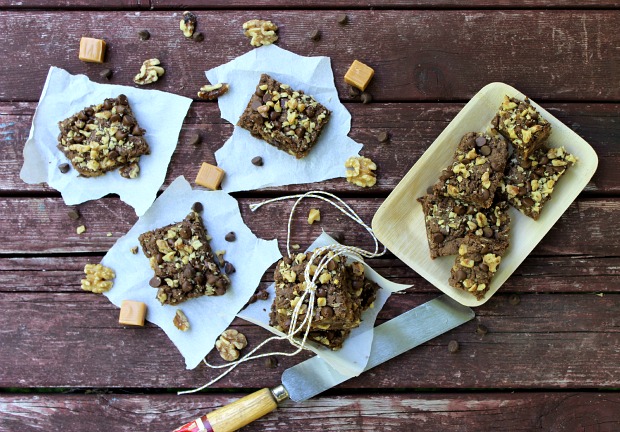 Did you know that baking is just one of the very many ways to use nuts? Food Network Chef Alex Guarnaschelli shares tips on cooking with nuts. One of the tips that I had never thought of was to upgrade your spice rub; next time you're cooking meat, add some ground nuts to your spice rub. The nuts can mellow some of the heat from the spice and add needed richness to the mix.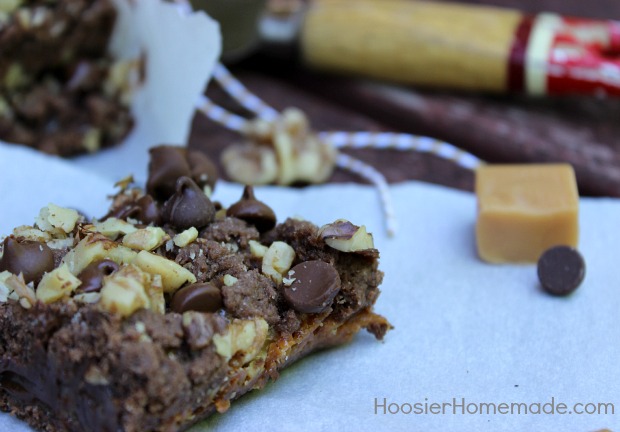 Before we get to the recipe, let's chat about the giveaway.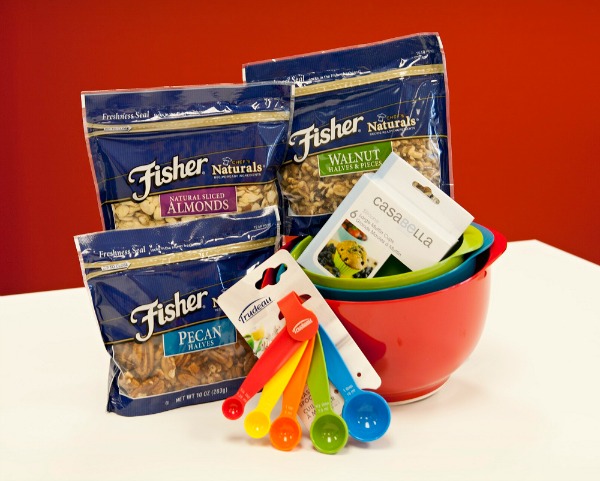 One (1) lucky reader will win a Fisher Nuts Prize Pack including…
Trudeau Melamine Mixing Bowls (Set of 3)
Trudeau 5-Piece Measuring Spoon Set
Casabella Jumbo Muffin Cups
Fisher Chef's Naturals Sliced Almonds
Fisher Chef's Naturals Walnut Halves & Pieces
Fisher Pecan Halves
GIVEAWAY GUIDELINES: PLEASE read the Official Guidelines 
Entries only accepted on this page. Facebook, Twitter or email entries do not count. Open to US Residents only.
Please note that if you are enjoying this post via email subscription or in a reader, you will need to visit the blog to enter
For more recipes from Chef Alex, visit Fisher Nuts.com
Disclosure: I am working with Fisher to share Chef Alex Guarnaschelli's recipes and create my own original recipe using Fisher Nuts and tools they provided. However, my opinions are entirely my own and I have not been paid to publish positive comments.
Chocolate Caramel Nut Bars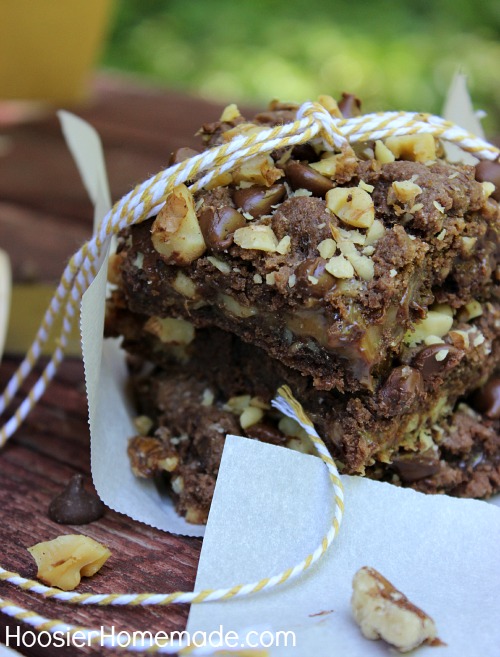 Chocolate Chips, Nuts and Ooey Gooey Caramel sandwiched between layers of German Chocolate Cake. Recipe from HoosierHomemade.com
Ingredients
1 bag (14 oz) caramels - I used 1 bag (11 oz) + 10 more caramels
1 can (5 oz) evaporated milk, divided
1 German Chocolate Cake mix with pudding in the mix
1/2 cup (1 stick) butter, melted
1 1/2 cups Fisher Walnuts, divided
1 cup chocolate chips, divided
Instructions
Combine caramels and 1/3 cup evaporated milk in a small saucepan and cook over low heat until completely melted, stirring frequently, remove from heat and set aside
Chop nuts and set aside
Preheat oven to 350 degrees and spray a 13x9 baking dish with cooking spray
In a large bowl, combine cake mix, butter and remaining milk, until combined well. Batter will be very thick and cookie dough consistency.
Press 1/2 of dough into baking dish evenly and bake for 10 minutes at 350 degrees
Remove from oven and sprinkle with 1 cup nuts and 1/2 cup chocolate chips
Spread caramel mixture evenly over top, using an offset spatula to help spread to the edges
Crumble remaining cake batter evenly over the caramel and carefully press into caramel
Sprinkle with remaining nuts and chocolate chips
Bake for 18 minutes or until golden brown
Cool and cut into rectangles
Store leftovers in fridge, serve at room temp
http://hoosierhomemade.com/chocolate-caramel-nut-bars-giveaway/