One of the favorite Chinese New Year traditions are red gift packets or envelopes of money and trinkets. These easy to make and frugal Party Favors are a fun way to celebrate.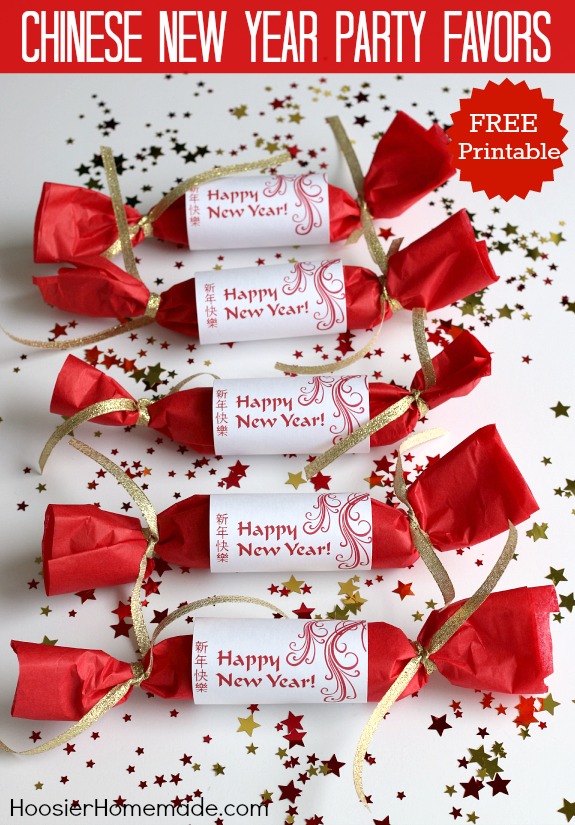 2015 is the Chinese New Year of the Goat, celebrated on February 19th. The year of the goat comes around every 12 years, as there are 12 animals in the Chinese zodiac – rat, ox, tiger, rabbit, dragon, snake, horse, goat, monkey, rooster, dog and pig. According to Chinese tradition, if you are born in the year of the goat, you are believed to be gentle mild-mannered, shy, stable, sympathetic, amicable, and brimming with a strong sense of kindheartedness and justice.
Here are several interesting Chinese New Year traditions:
Fireworks are used to drive away the evil
New Year Markets – during the course of the New Year's days, a temporary market will be set up to sell New Year goods such as clothing, fireworks, decorations, food, etc.
Cleaning – a few days before the Chinese New Year, people do a complete house cleaning and housewares which signify to remove the old and welcome the new.
Decoration – after the cleaning, people will decorate the house to welcome the New Year.
Red Packets – the packet, similar to an envelope with money are given by adults to children in the New Year days.
Today we are sharing a fun version of the Red Packet with our Chinese New Year Party Favors. We decided to keep them general so they can be used year after year. But you can of course, add the Year of the Goat to them if you want.
Let's gather our supplies…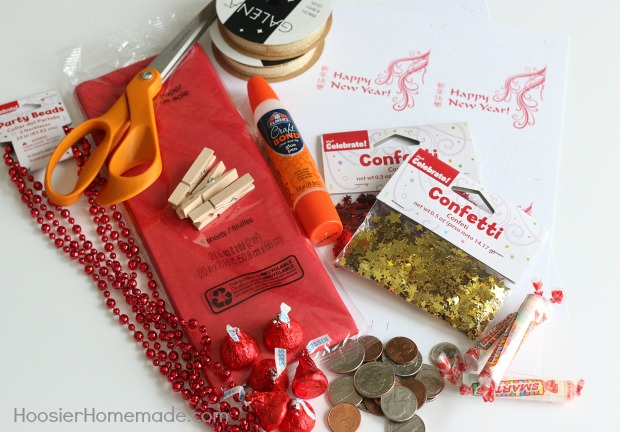 Chinese New Year Party Favors Supplies:
Happy New Year Printable
Cardstock to print them on or toilet paper rolls can also be used
Red Tissue Paper
Glue stick or glue dots
Scissors
Clothespins for holding them until they dry
Ribbon to tie the ends closed
Confetti for filling
Candy, coins or other small toys
The Chinese New Year Party Favors were also quite frugal too.  Depending on what you fill them with, you can make them for about $.50 cents each. I think they would be super fun at a child's birthday party as well. I found all the supplies at Walmart.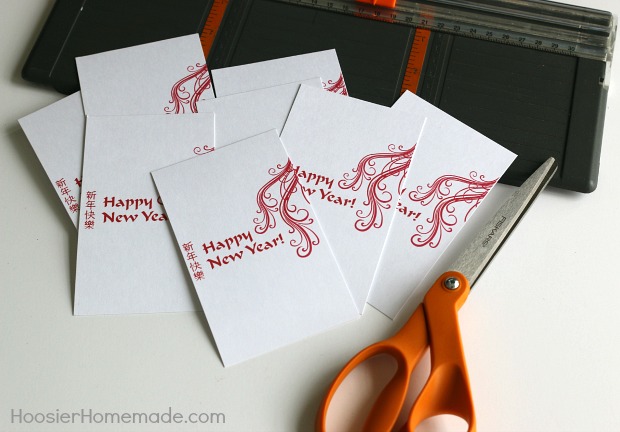 Step 1:
Print out the Party Favor onto cardstock and cut out. They measure 3 x 5 inches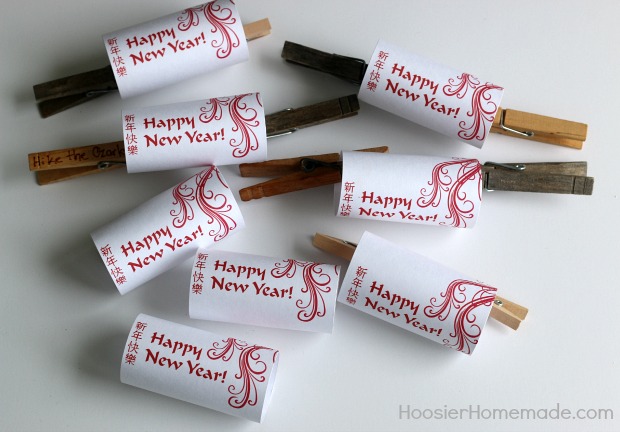 Step 2:
Glue together and use clothespins to hold if necessary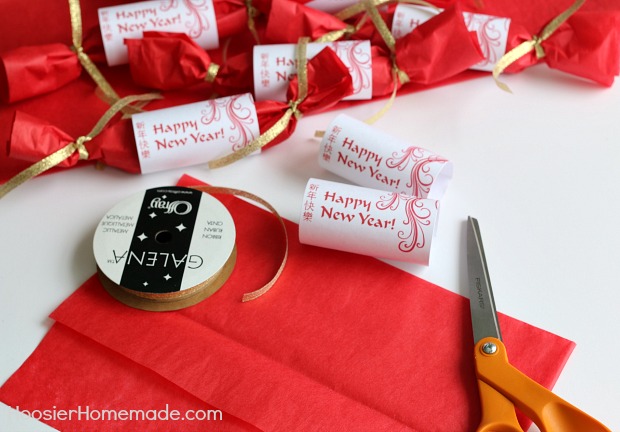 Step 3:
Cut the tissue. I got 4 out of each piece of tissue.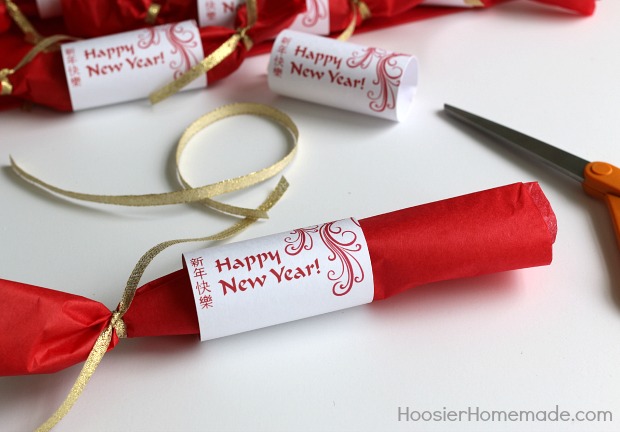 Step 4:
Roll up tissue and slip into tube. Tie up one end with ribbon.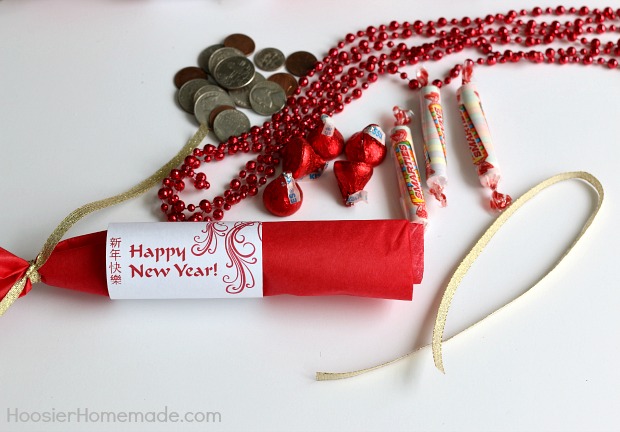 Step 5:
Fill with coins and treats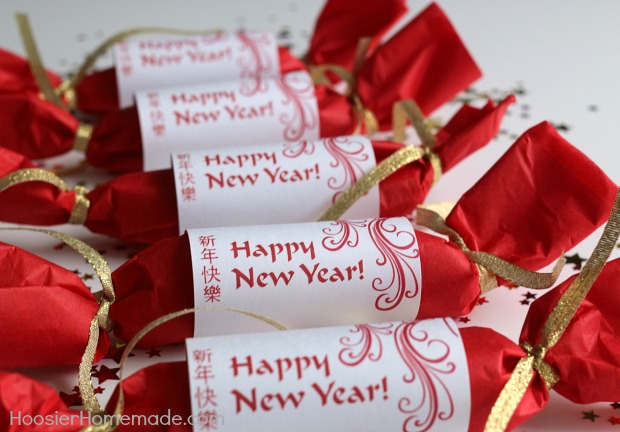 Step 6:
Tie other end. And you are done.