When all the talk around blogsphere started about  Eating From Your Pantry Challenge, I was a little disappointed that I wouldn't be able to participate much. My pantry just wasn't overflowing with food, that happens when you have 3 teenage boys in the house.
Even though I didn't have an overflowing pantry with food for dinner, I did have several items in my baking cupboard that needed to be used. And, as you well know,  I bake… all the time 🙂
So, last weekend, I searched around, and found this recipe for Butterscotch Brownies.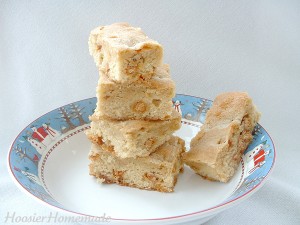 I enjoy baking brownies or any pan dessert, they are definately a time saver. These brownies were not only quick but also really good. Doug, my husband, who is not a butterscotch fan, even loved them. And, although they are called a brownie, I would consider them to be more cake or bar cookie texture. This recipe is definately a keeper.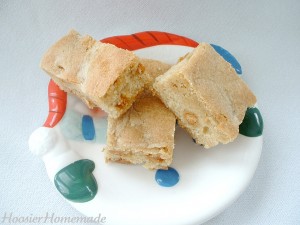 Butterscotch Brownies
Butterscotch Brownie recipe adapted from Nestle at HoosierHomemade.com.
Ingredients
2½ cups Flour
1 teaspoon Baking Powder
½ teaspoon Salt
1 cup Butter or Margarine, softened
1¾ cups Brown Sugar
1 Tablespoon Vanilla
2 Eggs
1⅔ cups Butterscotch Chips
1 cup Nuts, chopped (optional, I didn't have any so I left them out)
Instructions
Combine dry ingredients, set aside.
In large bowl, cream the butter, sugar and vanilla.
Beat in eggs.
Gradually add dry ingredients.
Stir in chips and nuts.
Spread into greased 13×9 pan.
Bake at 350 degrees for 30-40 minutes, golden brown or until a toothpick inserted comes out clean.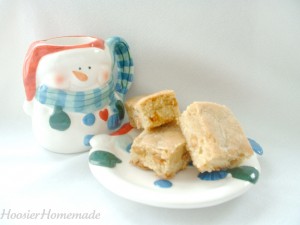 I adapted this recipe from Nestle.
You are cooking or baking from your pantry this month?
This post linked to:
~Ultimate Recipe Swap hosted by Life As Mom
~Foodie Friday hosted by Designs by Gollum
~Food on Fridays hosted by Ann Kroeker