When my good friend, and fellow blogger, Amy asked me if I was participating in Baking Day, my answer, I'm in!
Baking Day ~ Twitter ~ and Blogging about it! You bet I'm in!
I'll have to admit though, I didn't have much of a plan. Last time I had a Baking Day, I was a little more organized. FishMama blogged about her plan, but me, well, I just kind flew by the seat of my pants this time. There really is a method to my madness though 🙂
I have found that if I mix the dough, especially if I'm baking several kinds of cookies, muffins etc, it's much easier to mix on one day and bake on the next. And clean up is much easier too. Lucky for me, my Twitter friends are baking on Wednesday too.
I will update you with photos after I bake, but for now, here is what I mixed up.
Ultimate Chocolate Chip Cookies ~ New recipe from Blessed with Grace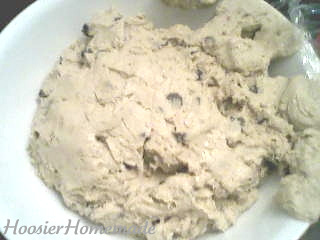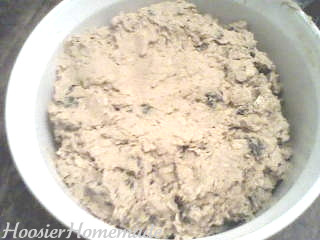 Peanut Butter Cookies ~ I will share the recipe and 3 different cookies on Friday, so be sure to stop back
Sugar Cookies ~ will be sharing this recipe soon too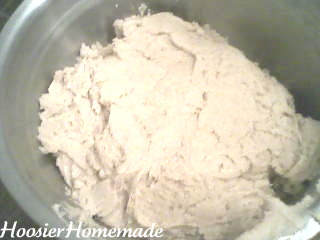 And I did do a little baking.
Cranberry Bread ~ baked 4 mini loaves and added some raisins to the batter and baked a few muffins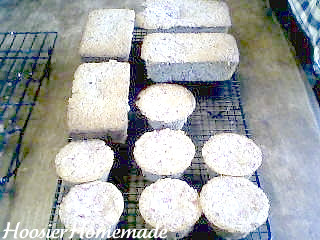 No Bake Peanut Butter Mounds ~ just had to have a treat for Doug and the boys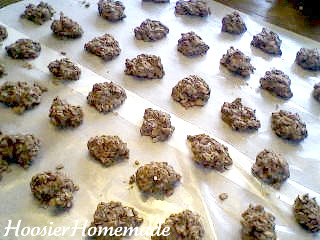 Homemade White Bread ~ well, from the Bread Machine that is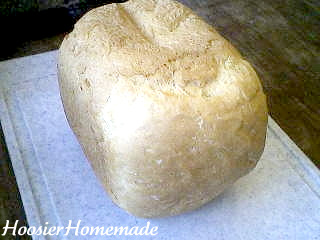 And besides baking the cookies I mixed today, here is my plan for today (Wed).
~Mix the dry ingredients for pancakes
~Cook some sausage and biscuits for a quick breakfast
~Make my Fall Dessert for the Holiday Food Fest
~Work on Cupcakes for next week's Cupcake Tuesday (would love to get a little ahead)
~And I sure hope I have time to give these Cinnamon Rolls from Amy at The Finer Things in Life a try, I have been wanting to give them a try for a couple weeks.
So, see, even though I didn't have a plan for Tuesday's baking, hopefully Wednesday's plan will add even more success to my Baking Day Adventure 🙂
Update: Well, unfortunately, I ended up taking my son to the Dr. for a check-up (he's fine) and it took almost 2 1/2 hours, and on top of that, the youngest had to be picked up from basketball practice, and the middle son had basketball practice and therapy for his shoulder. So, I didn't get much baking done, but tomorrow is another day, right?
Update #2: I was able to take some time this morning to bake up 3 batches of cookies, I will be sharing the Peanut Butter Cookie tomorrow, so be sure to stop back and see them 3 different ways.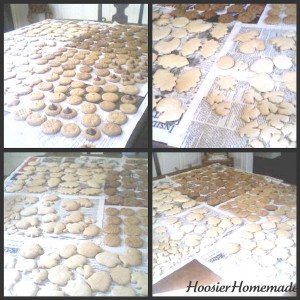 To see all the fun of Baking Day, please visit Life As Mom and Money Saving Mom
This week on Works For Me Wednesday, the theme is Holiday or Entertaining Tip. Baking Day and prepping for baking day is a must for the holidays.
~Works For Me Wednesday hosted by We Are THAT Family
Baking Day is a Finer Thing, visit The Finer Things in Life for more posts.