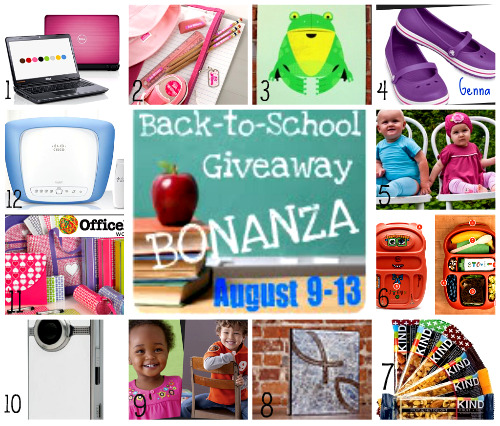 Congrats! to all the Winners from the Back to School Giveaway Bonanza! A HUGE Thank you to the sponsors and Thank you too to all who entered! Hoosier Homemade had a record number of entries and I couldn't be more happy!!
Amy wrote…I do like that Tomato Red!!!
Even if you're not a winner, you can still get an Inspiron R in time for school! Dell's "Fast Track" program provides two Inspiron R options that are ready for next day shipping! Here are two configuration options with starting prices of $549.99 & $679.99.
$549.99 version or $679.99 version
Melanie wrote…Colorful Labels best
Claudia wrote…like the apple one better.
Mandy wrote… I like the dawson.
Jes wrote…Subscribe to Hoosier Homemade in a reader
Kimberly wrote…I already subscribe to you by email
Kathleen wrote…i am a fan of yours on fb
Michelle wrote…I like the Tushie Huggers.
Lauren wrote…I love all of Agoo's cute leggings!
Leonor wrote…I would like to get a purple one. My daughter loves that color.
Eliza wrote…I like Hoosier Homemade on facebook
Lynda H wrote…I'm a fan on facebook  
Allison Lyons wrote…I follow Goodbyn on FB:)  
Kara wrote…We are helping at a soup kitchen
Jessica wrote…I teach them Scripture.
Danielle wrote…Following Carter's on FB!
Tonia wrote…I like the Hello Kitty Graffiti Black or the Kitty Kitty patterns. Or I would design my own with a pic of one of my kitties that past last year. I have a lot of things with her pic on it.
Office Max Backpack with Supplies
Briana wrote…I would use the middle school through high school list.
Lisa wrote…I subscribe to your newsletter.
Congrats to all the winners!! They have been sent an email and have 48 hours to respond, if they miss it, I will chose another winner.
Thanks again for entering!