Roasting chicken in the oven or crockpot is not only a frugal meal, but it's also healthy, and time saving.
I, most always, roast 2 chickens at a time, if you are going to run your oven, it doesn't take any longer to cook 2 chickens.
First, I clean the chickens, removing any parts in the cavity (lately the ones I have gotten don't have any) and rinse. I make 4 large balls of foil and place them in the bottom of the roasting pan.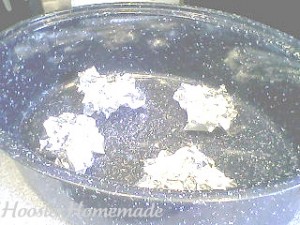 After the chickens are cleaned and rinsed, I brush them with oil and place them in the pan on top of the foil, this allows the chicken to cook evenly and not stick to the bottom of the pan.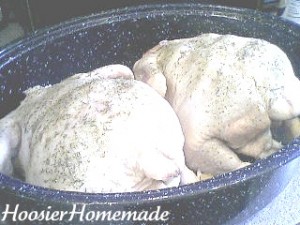 Then sprinkle on the seasonings that you like. I add Greek and Italian Seasoning, Parsely Flakes, a little salt and pepper. I also add about 6 chicken bouillon cubes to the bottom of the pan and a little water.
Bake at 350 degrees for about 3 hours.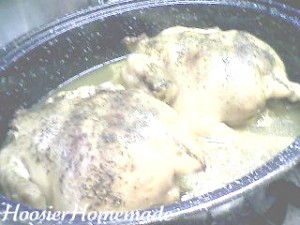 There are lots of meals that you can make with the roasted chicken. At least once a month I make Chicken N' Noodles, serving them with Mashed Potatoes. You can also make Chicken Pot Pie, Quesadillas, Tacos or endless ideas for casseroles.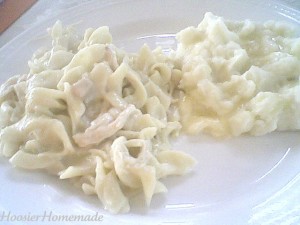 Any leftover chicken can also be frozen very easily. Just place it in the freezer bag, seal and freeze for another time.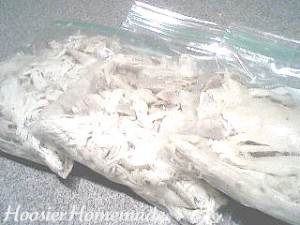 I usually buy frozen chicken at Aldi's, they are .79 per pound and cost around $4.50. And I can usually get 2 meals from 1 chicken depending on the size. Serving the chicken with potatoes (10 lb bag at Aldi's is .99 right now) and a veggie (.49 at Aldi's) makes the meal complete and the total cost will be around $5.00.